Please contact advisors for meeting times and days.
---
Arts and Crafts Club
---
*AVID Excel
AVID Club prepares students for advanced classes in high school and helps students prepare and plan for college.  AVID students learn important academic and life skills necessary to be successful.  All Students must be enrolled in AVID Class.
---
*Band
john.academia@sweetwaterschools.org
Students promote musical culture at EastLake Middle School.  All students must be enrolled in Band class to be part of the club.
Room 914
---
Comics/Superhero Fan Club
---
*Compacted Math
The Compacted Math club increases student learning for compacted math students. All students must be enrolled in Compacted Math.
---
Crochet Club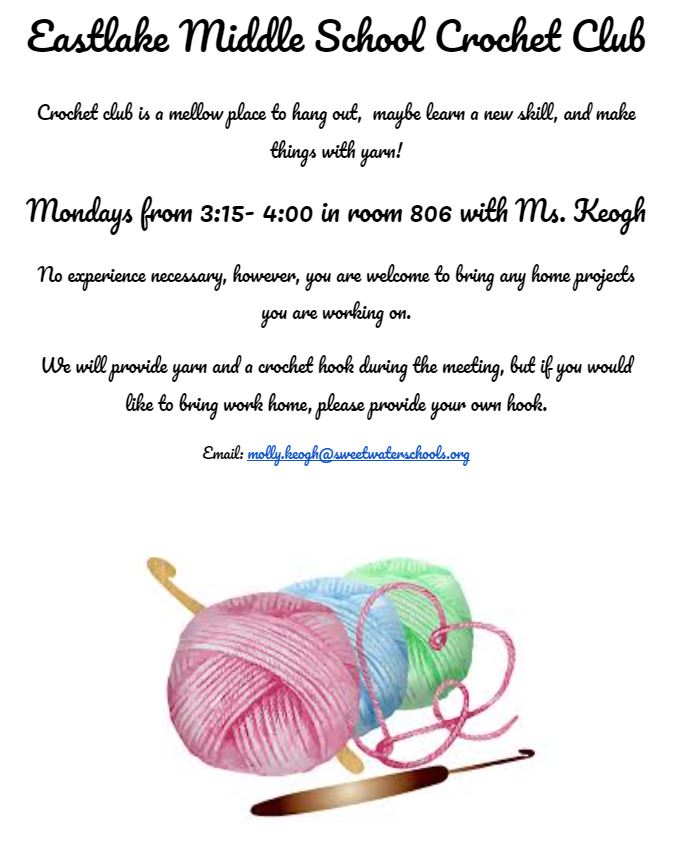 ---
Drama Club
---
Dungeons & Dragons Club
---
*Dual Language Immersion Club
The DLI Club helps students achieve the stated objectives of the DLI program, and celebrate the achievements of DLI students. All Students in the DLI Club must be enrolled in the DLI program.
---
Harry Potter Club
---
Impact 7/8 Bible Study
---
Knowledge Bowl
douglas.torres@sweetwaterschools.org
Practice times – Monday – Thursday 12:17 – 12:47.
Room 716
---
*Orchestra
eric.hagen@sweetwaterschools.org
The purpose of Orchestra Club is to promote a culture of musical collaboration and leadership among ELM string students while having fun and meeting new people along the way.  It provides a great opportunity for students to disengage from being online, going out of virtual interactions on the iPads and into real-time human interactions as humans have done for centuries. We promote culture and tradition on behalf of ELM by putting on musical performances for our community at the ELM Pavilion as well as at nearby nursing homes, elementary schools, and Knott's Berry Farm.  Students in this club are enrolled in Beginning Strings, Intermediate, or Advanced Orchestras and are welcome to practice for fun on Wednesdays in room 902 from 3:15 pm to 4:30 pm.  Former ELM students from the ELH and OLH provide tutoring, guidance, and inspiration for ELM Orchestra students coming to practice.
Room 902
---
Purple Pride Club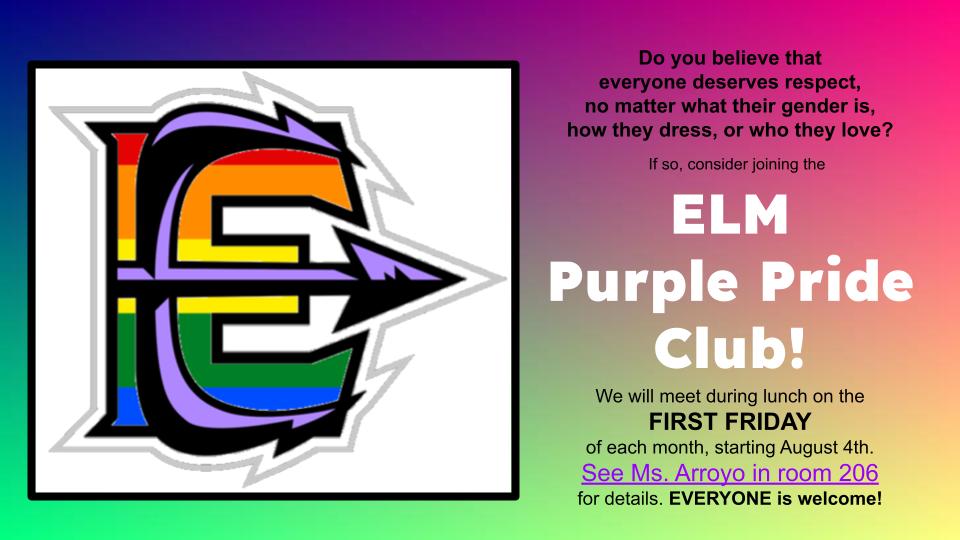 ---
Robotics
Robotics club collaborates in teams to build robots and compete at competitions.
Meetings are Tuesdays and Thursdays from 3:30-6:00PM in the fitness room (behind girls locker room).
---
Roller Skating Club
---
*Yearbook
monique.wood@sweetwaterschools.org
Yearbook class is responsible for taking pictures throughout the school year to document campus events and memories. All students must be enrolled in the yearbook class, maintain good grades, and model excellency.
Room 201 and 311
*Class or special status, no open membership.